Kitchen Refurbishment Sarasota
Professional Kitchen Refurbishment Services in Sarasota, Sarasota County FL
Kitchen Refurbishment Services in Sarasota, Sarasota County
Sarasota Kitchen Remodels is your go-to source for top-quality kitchen refurbishment services in Sarasota, Sarasota County. Our business specializes in updating and refurbishing existing kitchens to ensure that they meet the needs and specifications of our customers. With years of experience in the industry, we've developed a deep understanding of what it takes to create a beautiful, functional, and efficient kitchen.
Our team of experts uses the latest tools and techniques to ensure that every job is completed to the highest quality standards. We work closely with our customers to understand their unique requirements and provide customized solutions that meet their needs. Whether you're a homeowner looking to update your kitchen or a business owner in need of commercial kitchen refurbishment services, we've got you covered.
We can refurbish kitchens of all sizes, from small residential to large commercial ones and no job is too small for us. Our team of experts will work with you to create a custom plan that meets your needs and fits within your budget. We take great pride in our ability to deliver exceptional results and strive to exceed our customers' expectations every time.
We understand that kitchen refurbishment can be complex and time-consuming at Sarasota Kitchen Remodels. That's why we have a dedicated team of experts to ensure the process runs as smoothly as possible. From the initial consultation to the final installation, we'll work closely with you at every step to ensure that your kitchen refurbishment project succeeds.
So, if you're looking for top-quality kitchen refurbishment services in Sarasota, look no further than Sarasota Kitchen Remodels. Call us today or fill out our online inquiry form to schedule a consultation and take the first step toward creating the kitchen of your dreams.
What kind of kitchen refurbishment do you need?
When it comes to kitchen refurbishment, several aspects of your kitchen can be updated or refurbished to improve its functionality and aesthetic appeal. At Sarasota Kitchen Remodels, we can help you transform your kitchen into the perfect space for your needs. Let's take a closer look at the different aspects of your kitchen that we can refurbish or update.
Kitchen Refurbishment vs. Kitchen Remodel
When it comes to updating your kitchen, several options are available, including a kitchen refurbishment and a kitchen remodel. While both options have benefits, refurbishing your kitchen may be better for several reasons. Let's take a closer look at why you should consider a kitchen refurbishment instead of installing a new kitchen or doing a complete remodel.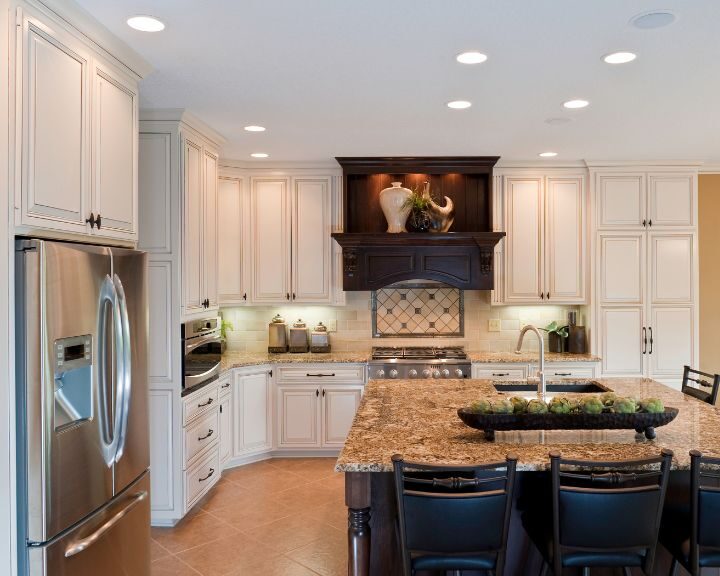 Frequently Asked Questions
Professional Kitchen Refurbishment Near Me
Sarasota Kitchen Remodels offers professional kitchen refurbishment services for homeowners looking to update and upgrade their kitchen space. Our team of experts has years of experience in the industry and is dedicated to delivering high-quality results that meet your unique needs and style preferences.
We serve the following areas:
Bee Ridge
Desoto Lakes
Fruitville
Gulf Gate Estates
Kensington Park
Lake Sarasota
Longboat Key
North Sarasota
Ridge Wood Heights
Sarasota Springs
Siesta Key
South Gate Ridge
South Sarasota
Southgate
The Meadows
Whether you want to update your kitchen's design, improve its functionality, or increase its value, our team can help you achieve your goals. We offer many services, including cabinet refinishing, countertop replacement, flooring installation, lighting upgrades, and more.
Our kitchen refurbishment services are tailored to your specific needs and budget, ensuring you get the best possible value for your investment. We use only the highest quality materials and workmanship to ensure your kitchen looks great and functions perfectly for years.
Call us today or fill out our online inquiry form to get started on your kitchen refurbishment project today.